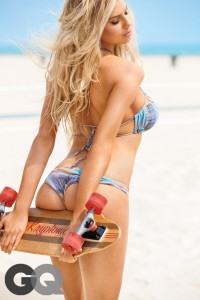 Charlotte McKinney is the GQ's girl of summer
July 2015
Photo shoot by Ben Watts
Model Charlotte McKinney does the sexy beach-surf thing in a photo shoot with GQ
Full article, here : Charlotte McKinney Is Our Girl of Summer
Ben watts, born in London, England in 1967, was a student at the Sydney college of arts from 1985 to 1990. he started his photographic career in Australia, first working as a photographer's assistant, but soon taking on commissions on his own, shooting for Australian Elle and Vogue, among others.
Fascinated by American hip hop culture he came to New York in 1990 and started documenting urban youth, hitting the streets and clubs of the city in his attempt to capture his subjects on film. He moved to New York in 1995, and has since shot advertising campaigns for Nike, Jockey, Polo Ralph Lauren, Miller Lite, Kodak, Roxy-Quiksilver, The Gap, Sony Music, Capitol/EMI, Loud Records, Tommyboy Records, and Apple, to name a few. He is a regular contributor to numerous magazines, including New York Times magazine, GQ, Interview, Rolling Stone, Vibe, Trace, Detour, Raygun, Esquire, Elle, and Tokion. His work has also been published in Vanity Fair, Harper's Bazaar, Outside magazine, Travel & Leisure, and Conde' Nast Traveler , among others.
Watts has contributed to several group exhibitions in new york, including "art in photography" he lives and works in new York.
CQ Magazine
For more than 50 years, GQ has been the premier men's magazine, providing definitive coverage of style and culture. With its unique and powerful design, work from the finest photographers and a stable of award-winning writers, GQ reaches millions of leading men each month. The only publication that speaks to all sides of the male equation, GQ is simply sharper and smarter.
Hot Wiki Pics (gif, photos) wiki instagram Facebook Twitter Google+